meta data for this page
PaavoInsurances
Group 1
| Group Member | Main Responsibilities |
| --- | --- |
| Otto Laitinen | Lead front end developer |
| Joonas Pohjala | Special features, front end |
| Juhana Repo | UI, front end |
| Tatu Virta | UI, front end |
Idea
Our idea was to create an insurance sale app which LTC-Otso wanted us to do. We managed to program all the three priorities. We also added possibility to make a new offer to the old customer. Our highly hyped special feature is barcode reader. Our app is able to read any kind of barcode, mainly social security number and S-bonus card.
Timetable
| Day | What to do |
| --- | --- |
| Monday | Brainstorming and prototyping |
| Tuesday | Setting everything up, Coding, UI |
| Wednesday | Coding, UI |
| Thurday | Coding, UI, finish everything |
| Friday | Presentation |
Motivation
We want to show what we can do. Paavos are two time Code Camp winners and we'll try to win this one also. We had a big group, so we need to do something special. As mentioned in the idea section, we were able to program the barcode-feature, which is kinda awesome.
Features
Customers are able to make home insurance contracts with us. Data will be saved in Otso database.

Customers are able to join "spam list", so they will be contacted later about insurances they are interested in by email or phone.

Old customers are able to do a new contract with us.

We can recognize old customers by scanning the ID-card and they can join loyality program with S-card.

Local database with social security numbers and bonus card numbers.
Tech
Visual Studio 2013 (C#, JSON.NET, XAML), GitHub, MarvelApp, Adobe Illustrator CC, CorelDRAW X6
Screenshots
Software Poster and Demo Video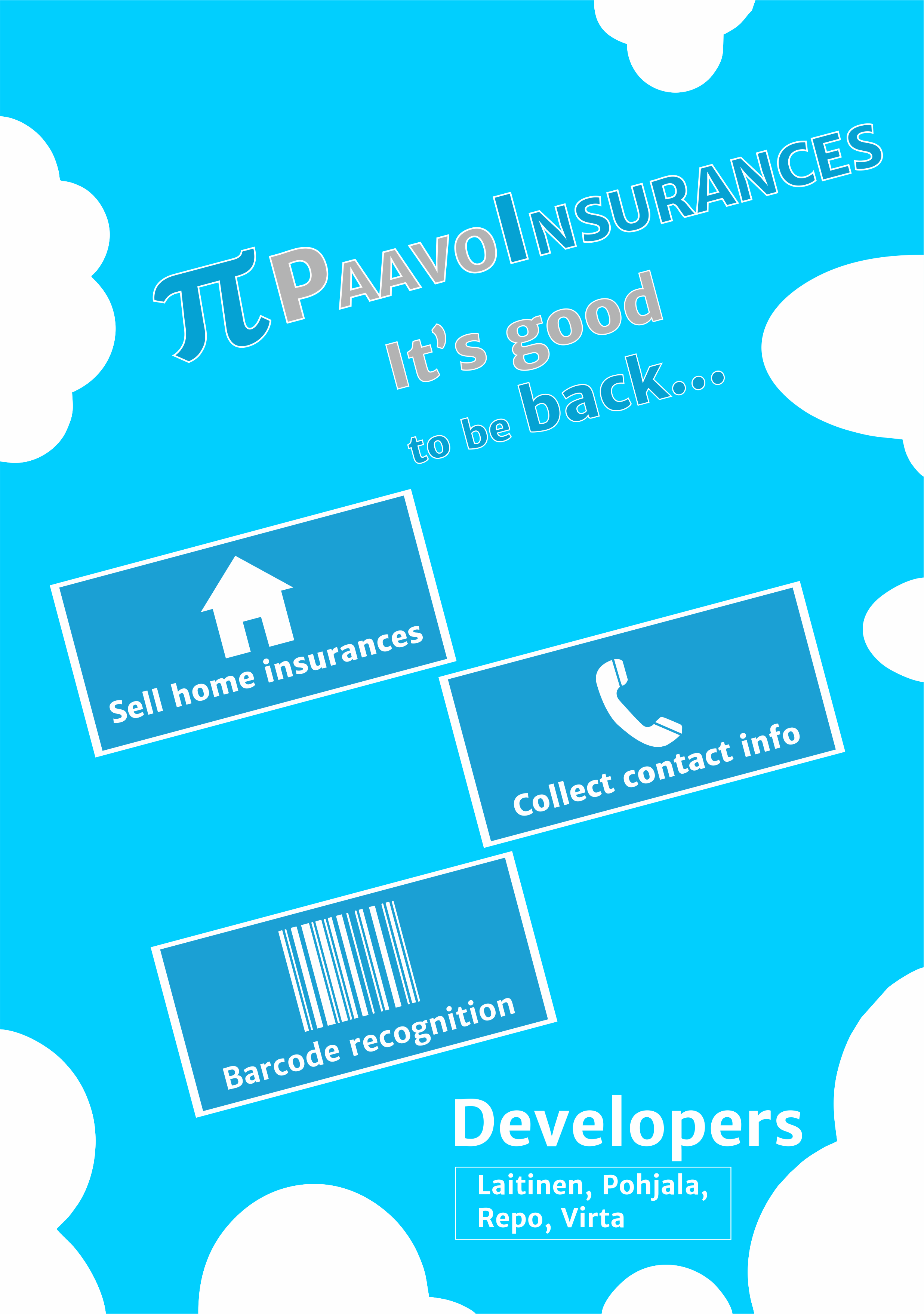 Presentation and Project Report
Links